STARMUS Festival


Discover the Cosmos and Change the World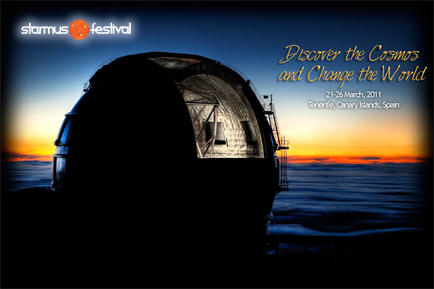 June 20-25th, 2011, Tenerife-La Palma (Canary Islands) - Starlight Concert
STARMUS is the first popular festival linking the many disciplines in astronomy and the space sciences. World famous scientists and astronauts will gather at the Spring Equinox in a media event to promote the science of astronomy and its discoveries. For the first time ever we shall hear music made from the real sounds of celestial bodies.
Backed by several international scientific institutions and organizations (IAC-Instituto de Astrofísica de Canarias, IAU-Insternational Astronomical Union, Starlight Initiative, Gran Telescopio Canarias), and under the patronage of UNESCO, the Festival will celebrate astronomy during five days of recreational and informative activities in a popular, appealing and dynamic way. Astrophotography, space-art exhibitions, documentaries, star parties, talks and conferences are some the endless activities that will delight music fans and astronomy aficionados alike. A stellar cast of musicians, including the band Tangerine Dream and Brian May will give a concert at the Magma Arts & Congress Hall.
More information STARMUS FESTIVAL WEB SITE
STARLIGHT CONCERT: SONIC UNIVIERSE

Francisco Sánchez (Director of the Instituto de Astrofísica de Canarias), Astronaut Neil Armstrong and Cipriano Marín (Coordinator of the Starlight Initiative).

Garik Islaelian (Director and

brainchild of the Starmus Festival) and Alexei Leonov

(Russian Cosmonaut).

  



 

Starlight Concert: Sonic Universe

TANGERINE DREAM &BRIAN MAY

24 June - 21:00h, MAGMA Arts & Congress Hall

Great painters, photographers, actors, writers and dancers have honoured Tangerine Dream for the inspiration for their own work they got from listening to the music of TD. Tangerine Dream's reputation in the world of music, their vast experience and professionalism has reserved them already a place within the gallery of remarkable artists out of the last four decades.



Last Updated on

Dec

18

2011
More information
LOOKING FOR SOMETHING?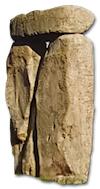 Starlight Initiative collaborates with the

PORTAL TO THE HERITAGE OF ASTRONOMY
Starlight Finder
Resources - Publications

Windows to the Universe

Starlight Tourism

Biodiversity at Night

World List of Dark Sky Parks

Starlight Cities

Laws and Regulations

Light Pollution Control

Global StarPark Network

Starlight Focal Points

Benchmark of Excellence

Portal to the Heritage of Astronomy
Starlight related links

Covenant of Mayors Related Initiative

Colaborating with IAU Working Group

IUCN Dark Sky Advisory Group

Dark Skies Awareness Project

Partnership Unesco-MaB


Member of the Knowledge Network


Instituto de Astrofísica de Canarias
| | | |
| --- | --- | --- |
| | The Starlight Initiative is designed as an international action in defence of the values associated with the night sky and the general right to observe the stars. It is open to the participation of all scientific, cultural, environmental, and citizens' organizations... | In partnership with: |
| | | |